MCG consultants strive to make a significant impact on organisations by working in partnership with management to agree methods, processes and procedure changes required to obtain improvement and support long-term growth. This approach enables companies to achieve sustainable organisation change faster and more effectively by working with the decision makers in obtaining staff commitment to the agreed process changes.
Our approach to organisation change is unique and distinctive from other consultancies in that:
it is stakeholder-driven. In order to achieve sustainable change the needs of all stakeholders must be recognised and satisfied wherever possible.
it is an holistic process in that all elements in the organisation are reviewed and changed where necessary to satisfy the needs of the whole group. This minimises the dangers of selective changes to parts of a business that solve short term concerns but which usually create long term problems elsewhere.
we work in partnership with the managers of our clients to ensure that the agreed changes are supported and implemented by their staff.
we are successful because we focus on supporting self-managed change efforts to accrue benefits for the client and its staff.
we are totally committed to continuing the partnership through the implementation phase by carefully monitoring the benefits accrued to the client as a result of the recommended changes.
Whilst business change projects may have ambitious well planned strategies, redesigned processes and effective technology, effective change will not occur if the hearts and minds of staff are not used during the project. This requires communication, discussion and training during the project, the provision of the skills demanded by the new or re-engineered processes and counselling to ensure that staff are convinced, capable and motivated to use the new operating system. MCG place great emphasis on a well planned and managed implementation phase. This must identify performance indicators which recognise improvement to be achieved as a result of the change project. MCG encourages companies to ensure that the organisation design and structure reflects and supports the corporate strategy which it is going to manage. Its consultants maintain vigilance throughout the implementation phase to ensure client satisfaction.
When completing consultancy projects in all areas of specialisation, MCG additionally provide Clients, Executives, Managers and employees with advice on state of the art international business information, methods and theories through the various online e-Learning and distance learning programmes available. The continuing career and professional development of staff is an integral part of project completion to achieve maximum impact and client satisfaction.
Business & Organisation Change Programme
To be effective, business and organization change issues must be dealt with in an holistic manner. MCG consultants have developed a total framework approach to deliver the various specialist services available in the Group.
MCG Business Change framework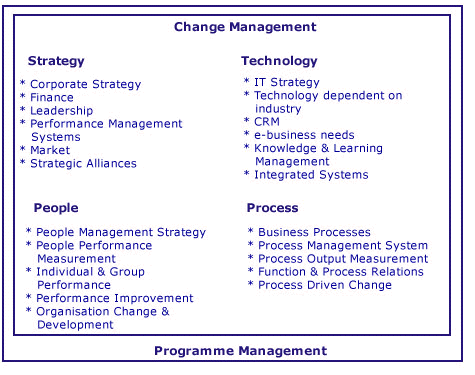 Strategy
Organisations must set a clear strategy, and then lead their business towards that defined objective. To achieve this, management is required to:
Develop and communicate the Corporate Strategy.
Have a clear understanding of the Company Economics.
Provide focused Leadership
Introduce a Performance Measurement System totally committed to Improvement of processes and results
Focus all the strategic efforts on Customer Satisfaction
Widen the resources available through collaboration and Strategic Alliances.
People
Whilst change efforts may have clear corporate strategies, re-designed processes and effective technology systems to assist them, change will not take place unless the hearts and minds of employees are engaged throughout the process. To achieve this, total involvement is required during the process and participants must be equipped to ensure that they are capable and motivated for the objectives of the 'new' company and its method of working. To ensure this:
the organisation design must be seen to reflect and support the corporate strategy which is being implemented.
an effective mechanism is necessary to measure individual and team performance to identify and reward improvement.
all participants must focus on the agreed objectives of the change process and speed the organisation development necessary to operate the business.
Processes
Processes are the mechanism by which strategy is implemented. They reflect the total work structure of the organisation and convert resources (inputs) into income (outcomes). To use business processes as the vehicle for strategy delivery requires:
A real understanding of how to operate an organisation by business process management.
Very clear outcomes measured through the use of process metrics
A comprehensive performance management system to reward individual and group improvement.
The agreed processes to be incorporated into an integrated management system.
Technology
Whilst business processes are the work structure of the business, increasing technology availability and update provides the capability to achieve changes to process activities quickly. With the emergence of new world technologies, principally CRM, e-business and Knowledge Management, technology is now able to offer itself as a strategic tool in its own right, rather than an automation tool as in the past. Achieving all that technology has to offer requires organisations to:
to develop an IT strategy that fully supports the business strategy and enables it to develop and grow.
communicate business needs and convert them into technology requirements
implement company wide IT systems which provide a single database and a common operating platform.
make the common database available to all in customer service management thereby merging data provision with market and business strategy.
use easy access to a knowledge management approach and technology to turn individual knowledge into company wide knowledge speedily and effectively.
Organisation Change Management
Whilst change itself always carries with it uncertainty, the process of change should be one, like any other process, which is governed by an effective plan, clear rules, processes, protocols and systems. MCG has developed a successful model for change with the necessary supporting tools and techniques.
Change Process Model
Process
Feasibility
Analysis
Planning
Implementation
Review
Policy

Project plan

Business case

Resources

Measures

Approaches

Boundaries

Degree of change

Investment

Documentation

Communication

Training

Sign-off

Ownership

Phasing

Budgets

Control

Audit

Learning

Appraisal

Adjustment

Reporting and improvement
Programme Management
Projects and programmes are very different things. Project management constantly refers to the elements of milestone and activity planning. Programme management used to complete a comprehensive change in an operating company's performance is all encompassing. MCG's holistic approach to programme management recognises that all critical elements need to be addressed if an integrated change is to meet its agreed objectives. Changes made in isolation to solve an immediate departmental problem usually cause long term corporate concerns elsewhere if process analysis in not completed
Programme Management Model for Change Implementation
Feasibility
Data Collection
Analysis
Report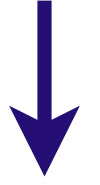 Present Method of Operation PMO
Procedures
Activities
Structure
Inputs/Outputs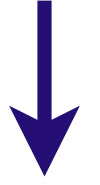 Future Method of Operation FMO
Processes
Structure
Input/Outputs
Performance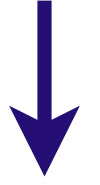 Implementation
Plan
Improvement Expected
Review